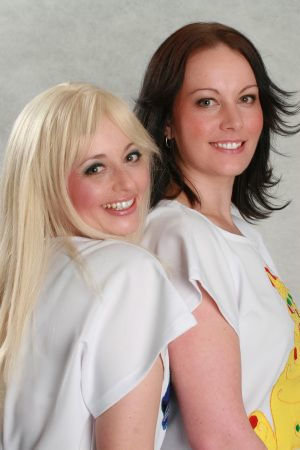 "Magic Melodies" Abba Show
    
Abbasession have been playing in the public and private sector as well as several interstate and corporate events for the last 13 years and a variety of other events including festivals, bat/bar mitzvahs, milestone birthday parties, children's parties, senior citizen shows, shopping centre shows and many more.
We are pleased to be able to offer our  "Magic Melodies" Abba show for only $500 in the eastern suburbs of Melbourne and $550 in the southern, western and northern suburbs of Melbourne for weekday mornings and early afternoons.
Our Magic Melodies Abba show is the Abbasession duo show, a fully costumed 1 hour show featuring all of your favourite Abba songs.
Abbsession love to get the audience involved in their shows, you'll have the two ladies roaming and circling the party singing and performing their Abba moves and encouraging audience participation so no one is excluded from the excitement and the energy of the show.
                                    Coming soon: "Magic Melodies" All eras show.
To book Abbasession for your next event call 0414 901 775 or 0410 615 035
or email [email protected]
Abba Tribute Band , Duo and Trio