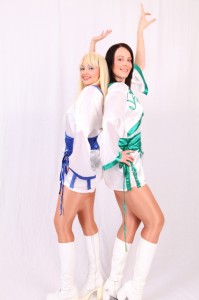 Abbasession Abba Tribute Band, Duo and Trio is the perfect choice for any event.
We are experienced party and corporate specialists and work closely with you to make sure your event is one your guests will not easily forget.
Abbasession are able to play the smallest functions and largest venues due to having a range of sound systems to suit.
Whether you choose the duo, trio or the 4 piece, you can be  assured that you will always receive a top quality sound and show at a fraction of the cost of similar 6 – 8 piece acts.
Abbasession have played various corporate functions including Awards nights, Bat/bar Mitzvah's,
Birthday's: 18th, 21st,30th,40th,50th and 60th,Weddings,Christmas functions, Festivals, Football clubs, Restaurants, Children's Parties and various other private and public functions.
 In addition to headlining the 2013 Holland Festival and  2011 Springvale Lunar Festival some of our corporate clients include:
IKEA
AFL Tasmania
Lions Club
Leisure City Epping/One Health Fitness
Westpac
St Vincent's Hospital
Rollspack
Wickham Plastics
Frost Promotions
    Frequently Asked Questions
Q. How is the Abbasession Duo and Trio able to sound authentic without a band?
A. We use high quality backing tracks that gives a full band sound and we have an excellent sound system and of course both of the girls are professional singers. Our guitarist is an outstanding musician and professional singer and the ladies love him.
Q.Why doesn't the Abbasesion Band use a live drummer and bass player? 
A: Abbasession use high quality pre recorded drums and bass which enables us  to have the same dynamics and presence of a full band without the added costs of extra musicians. Abbasession also has the versatility to be able to set up a show in small or large spaces, allowing greater flexibility for your special event.
Q. I would like to have Abbasession play at my wedding. Do you play weddings?
A. Yes we do, in fact we play almost any type of event from birthday parties to Bar/Bat Mitzvah's to senior citizens to Christmas parties and even children's parties and we would love to be a part of your special day.
 Please note that children's parties are a 30 minute set max  www.ringringchildrensentertainment.com 
Q. I really love Benny and Bjorn, how does the Abbasession Duo show  work without them?
A. Most people love to hear the ladies sing but for those who do miss the guys, Abbasession offers a 4 piece band with Benny and Bjorn.  Please specify at the time of booking if you would like 2, 3 or 4 piece as sometimes we are unable to arrange for the guys to join us closer to the date of your event.
 Q. Do I need to have a big stage setup for Abbasession?
A.  Abbasession can adapt to almost any situation and the stage can be big or small and the sound will still be fantastic. Sometimes we find we are without a stage and become a floor show and that is fine with us as the girls never stay the whole time on stage,they like to dance and sing with the crowd and turn it into an interactive show.  
Q.  How long does Abbasession play for?
A. Abbasession generally plays a 1 x 45 minute set,  a 1 hour set or  2 x 40  minute sets . Abbasession can also offer 2 x 40 minute sets + 1 x 40 minute covers set to extend your evening  entertainment.  For those that like the dynamic sets but would like more costume changes, we offer the 2 x 30 minute sets. We also have the option of of a dual tribute show with the Indian from the Village People https://abbasession.com/abbasession-meets-the-village-people/
Special requests can be accommodated at the time of booking.  This applies to the 2, 3  and 4 piece act.
Q. Which is better the Abbasession Duo, Trio or 4 piece band?
A. All options are fantastic and every member is a professional and of course you still get the full sound system but it ultimately depends on your needs for your event, which may include budget,space and time of the event.
Q. I've noticed a lot of bands seem to overdo the Swedish accent and it makes the songs sound odd,does Abbasession do this?
A.  No. We talk in Australian accents and try to sing the songs as close to the original as possible.
Q. I really love Abba but my partner loves rock music,are Abbasession able to play a couple of rock songs ?
A. We also  offer 1 set of Abba and 1 set of disco/pop/classic rock with disco costumes.
Q. I'm having trouble deciding between live music and a DJ, can you supply both?
A. Whilst we cannot  supply a DJ, we can play break music before a show as well as in between sets (if applicable) and for a short time after the show is finished. Our sound engineer can also stay on longer and play your own playlist through our system for an extra fee if required.
Q. Why should I choose Abbasession over another Abba tribute band?
A.  Abbasession offer a unique experience to other Abba acts.
We offer an interactive show and whilst our moves are choreographed, our onstage banter and communications with our audience is spontaneous.
We like to work one on one with our clients and we do our best to provide you with choices that best suit your budget. 
Abbasession  are the original Abba tribute duo and trio show and as such we won't compromise on our sound, costumes and professionalism just to make a quick buck.
Our versatility and flexibility has seen us entertain many happy customers and we look forward to performing for you soon.
 Q. Does Abbasession have any special requirements?
A. We  require acccess to power and we ask that a small,secure space for costume changes be provided.  We also ask that the client provide a light meal and refreshments.
Q. Will Abbasession travel interstate and overseas?

A. Absolutely!  Depending on the location of the venue, there maybe other costs to factor into your budget which could include  flights, accommodation and transfers as well as hiring a PA and possibly a  sound engineer to set up the equipment and mix for the evening.  Abbasession are happy to help source airfares and equipment for you.
Q. How much does Abbasession charge per show?
A. The costs involved depend on a few factors including what line up you choose,how long the act plays for and where the venue is located. When making an enquiry please be sure to include these details as well as your  preferred dates and times.
Q. What Payment form does Abbasession accept?
A. Abbasession accept a 20% deposit on confirmation of booking (direct bank transfer) and 50% deposit on confirmation of booking interstate and international shows to secure your date of choice, with the balance  paid via direct bank transfer the week prior to the show.  All interstate and international shows must be paid in full no less than 7 days prior to the show commencing or travel date, whichever is sooner.  New Years Eve is also charged at a 50% deposit.  Please be aware that the date is NOT secure until the depoist has been received and all quotes are valid for 7 days.
  Q. Why should I book direct rather than through an agency?
A.  Booking the act directly means that you automatically save $$$ as most agencies add a minimum cost of 15% for commission and some add up to 50% to our quoted price. When you book directly with Abbasession, you have the advantage of having a personalised service so that we can work together to ensure that your event runs as smoothly as possible in regards to the entertainment. Please note that once you have made an enquiry through an agency and they have contacted us,we will be unable to deal with you directly and you are required to continue the booking process with them. Confirmed bookings are issued with detailed confirmation of the show(s) and contracts similar to what you would receive from a booking agent are available by request.
To book Abbasession for your next event call 0414 901 775 or 0410 615 035
or email [email protected]
Abba Tribute Band, Duo and Trio