Book Abbasession Abba Tribute for  your event!
For all booking enquiries please call Nicole on 0414 901 775
or email

[email protected]

 
This is Abbasession: A tribute to ABBA  
Formed in 2009, Abbasession are a professional Abba tribute show that takes the Abba experience right back to the 70's where it all began, playing all of your favourite Abba dance and pop rock classics.
  Abbasession are unique in that they deliver a fantastic production and performance in almost any live situation, from concert halls to function rooms, even in the privacy of your own home.
 Abbasession love to get the audience involved in their shows,you'll have the two ladies roaming and circling the party singing and performing their Abba moves and encouraging audience participation so no one is excluded from the excitement and energy of the show.
When you hire Abbasession, you'll come to realize why they are one of the most fun and entertaining Abba tribute shows in Australia.
You'll have all your friends, family and patrons talking about this great night for years to come .
Abbasession  are the original Abba tribute duo and trio show.
Do you love options?

Abbasession offer a 2 , 3 or 4 piece outfit for all of your event needs.
Did you know that as well as playing all of your favourite Abba songs, Abbasession can also play a classic rock/disco set at your event?
From Abba to Zeppelin, we've got you covered.
For more information go to https://abbasession.com/other-services/
or email [email protected]
Do you have something else in mind?
What's your Abbasession?
 Please contact us with your ideas/vision and we can work together to make it happen.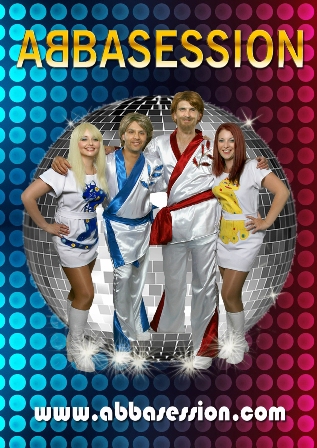 To book Abbasession for your next event call 0414 901 775 or 0410 615 035
or email [email protected]
Abba Tribute Band, Duo and Trio